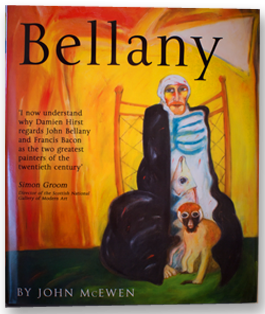 Bellany by John McEwen
John McEwen, one of Britain's foremost art critics, became John Bellany's official biographer in 1990 producing this indepth authoritive tome, now on its third edition.
This is not a new book, being an updated and expanded version of the monograph first published in 1994, but the mere fact that it has been regularly reprinted is an indication of both its quality and the subject's enduring popularity.
It is the book on John Bellany, and this new third edition is the most lavish and best-illustrated version so far.
It contains a foreword full of praise by the late John Russell, himself a writer of remarkable perception and achievement.The dramatic narrative of Bellany's life in art is told by John McEwen with verve and clarity in a sequence of short chapters interspersed by blocks of colour illustrations (more than 200 in total). The potency of the finest paintings here explains why Bellany is regarded as the most influential Scottish painter of the last century, and why he is widely admired and collected by the likes of David Bowie and Damien Hirst. (Extract Spectator review)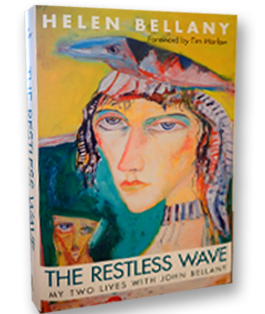 Restless Wave by Helen Bellany
Helen Bellany, twice married to the artist John Bellany, recalls their lives together in Scotland, London, and Italy.One of the most enigmatic British artists, his work described by the Guardian as 'at once realist, expressionist and surrealist', this book tells how John Bellany rose from rebellious art student to worldwide recognition.
Inspired by the sea and the Scottish fishing community he was born into, he began his lifelong visionary journey exploring the human condition.
The Restless Wave is also an account of the human cost inherent in creating great art, John's long struggle against alcoholism which resulted in acute liver failure, the organ transplant that saved him, and his gradual recovery and renaissance are described in unflinching detail.
The Restless Wave reflects the mystery, poetry and passion that was at the core of the inner life John and Helen shared.
The couple had great friendships with such fellow artists as David Bowie, and John painted such internationally known figures as Billy Connolly, Sean Connery and Peter Maxwell Davis, as well as many portraits of his muse, Helen.