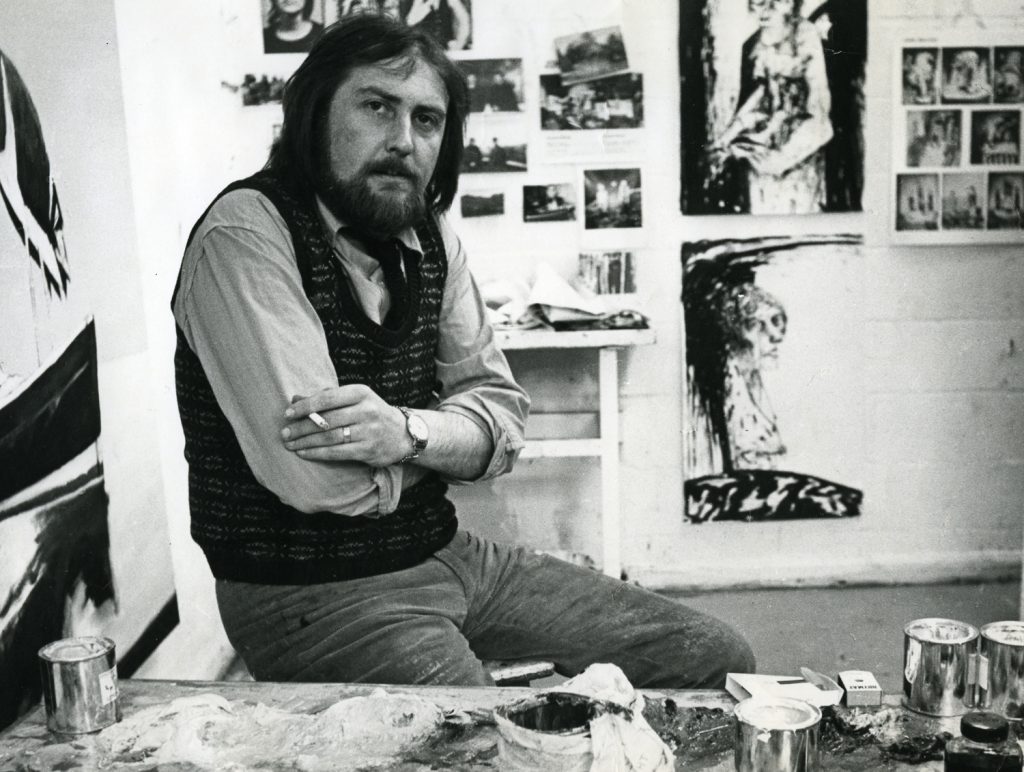 Born at Port Seton in 1942 into a family of fishermen and boat builders and steeped in Calvinism as a child, his art is profoundly religious in its intimation of morality and recognition of evil; facts reinforced in 1967 by a traumatic visit to the remains of the Buchenwald concentration camp. But Bellany's life voyage has proved every bit as perilous as the sea voyages of his ancestors.
Throughout his career he has painted elemental allegories encompassing the complexities of the human condition and anchored in the rich poetry of the sea; but after moving to London in 1965 to study at the Royal College of Art, his vision and iconography became broader. In the seventies when his personal life was in turmoil, he embarked on a near-fatal journey of self-destruction, reflected in the angst-ridden images in his paintings of the period.
In the nineteen-eighties he successfully underwent a liver transplant which inspired a remarkable series of pictures started, to the astonishment of his surgeon, within hours of regaining consciousness.
His towering example has inspired a new pride in Scottish artists; a fact duly recognised when he was awarded the CBE. His paintings are in the collections of major museums and art galleries throughout the world, including the National Galleries of Scotland, The Tate Gallery, National Portrait Gallery, Museum of Modern Art and the Metropolitan Museum, New York.
1942 Born 18 June 1942, Port Seton, Scotland
2013 Died 28th August 2013, Saffron Walden, England
2013 Buried 12th September 2013, Dean Cemetery, Edinburgh

1960-65 Edinburgh College of Art.
1962 Andrew Grant Scholarship. Travel to Paris.
Postgraduate travelling scholarship to Holland and Belgium
Commissioned by Ministry of Agriculture and Fisheries to
paint murals for Chesser House, Edinburgh
1965-68 Royal College of Art, London.
1965 Burston Award, Royal College of Art, London
1967 Official cultural visit: East Germany;
inc. Dresden, East Berlin and Buchenwald
1968-84 Lecturer in Painting, Brighton College of Art, Winchester College,
Royal College of Art, Goldsmith's College of Art,
1980                 John Moores Prize winner
1981                       Major Arts Council Award
1983                       Artist in Residence, Victoria College of the Arts,
Melbourne, Australia
1985                       Athena International Art Award (Joint first prize winner)
1987                       Wollaston Award, Royal Academy, London
1988                       Elected Fellow of Trinity Hall, Cambridge
1991                       National Portrait Gallery Commission Lord Renfrew
and Sir Roy Calne
1992                       British Council visit to Central Europe, Prague, Vienna, Budapest
1993                       Korn/Ferry Picture of the Year, Royal Academy, London
1994                       Awarded CBE by Her Majesty, The Queen,
1995                       Glasgow Herald Award for Excellence
1996                       Honorary Doctorate, University of Edinburgh
1998                       Honorary Doctorate, Herriot Watt University
1998. Honorary Senior Fellow, Royal College of Art, London
2002                       Honorary Citizen, Foscandora, Italy
2002.               Chevalier Medal, Florence
2002. San Cristoforo, Barga, Italy
2005                       Freedom of East Lothian
2009                       Honorary Doctorate, Queen Margaret University, Edinburgh.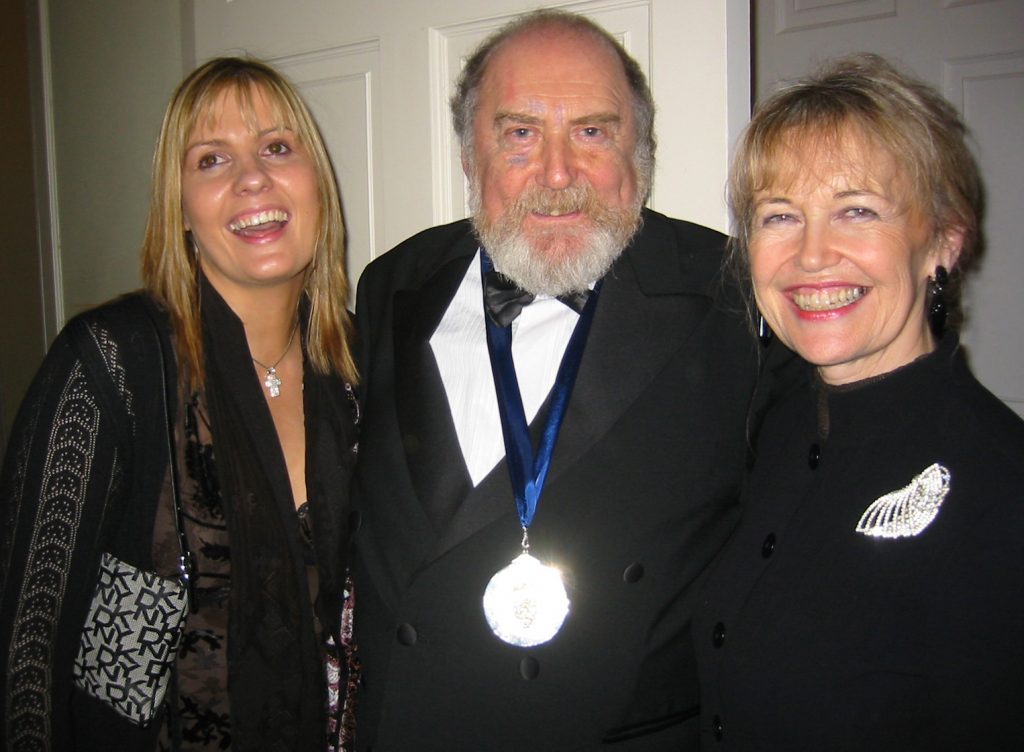 Public Collections
Aberdeen Art Gallery
Arts Council of Great Britain
Belfast Polytechnic, Northern Ireland
British Council, UK
British Museum, London
Chesser House, Edinburgh
Contemporary Art Society, London
Dundee Central Museum and Art Gallery
Edinburgh Corporation
Ferens Art Gallery, Hull
Fitzwilliam Museum, Cambridge
Glasgow Art Galleries and Museums
Government Art Collection, UK
Hatton Gallery, University of Newcastle
Hunterian Art Gallery, University of Glasgow
Isle of Man Arts Council Collection
J.F. Kennedy Library, Boston, USA
Kirkcaldy Museum and Art Gallery
Leeds City Art Gallery
Leicester Museum and Art Gallery
MacLaurin Art Gallery, Ayr
Metropolitan Museum of Art, New York, USA
Middlesbrough Art Gallery
Museum of Boca Raton, Florida, USA
Museum of London
Museum of Modern Art, New York, USA
National Gallery of Art, Gdansk, Poland
National Gallery of Modern Art, Dublin
National Gallery of Poland, Warsaw, Poland
National Library of Congress, Washington, USA
National Portrait Gallery, London
New York Public Library, USA
Perth Museum and Art Gallery, Australia
Royal College of Art, London
Scottish Arts Council, Scotland
Scottish Maritime Museum
Scottish National Gallery of Modern Art, Edinburgh
Scottish National Portrait Gallery, Edinburgh
Scottish Parliament, Edinburgh
Sheffield City Art Gallery
Southampton City Art Gallery
Swindon Museum and Art Gallery
Tate Gallery, London
Talbot Rice Gallery, University of Edinburgh
University of Western Australia, Perth
Victoria & Albert Museum, London
Whitworth Art Gallery, Manchester
Wolverhampton Municipal Art Gallery
Yale Centre of British Art, Connecticut, USA
Zuider Zee Museum, Holland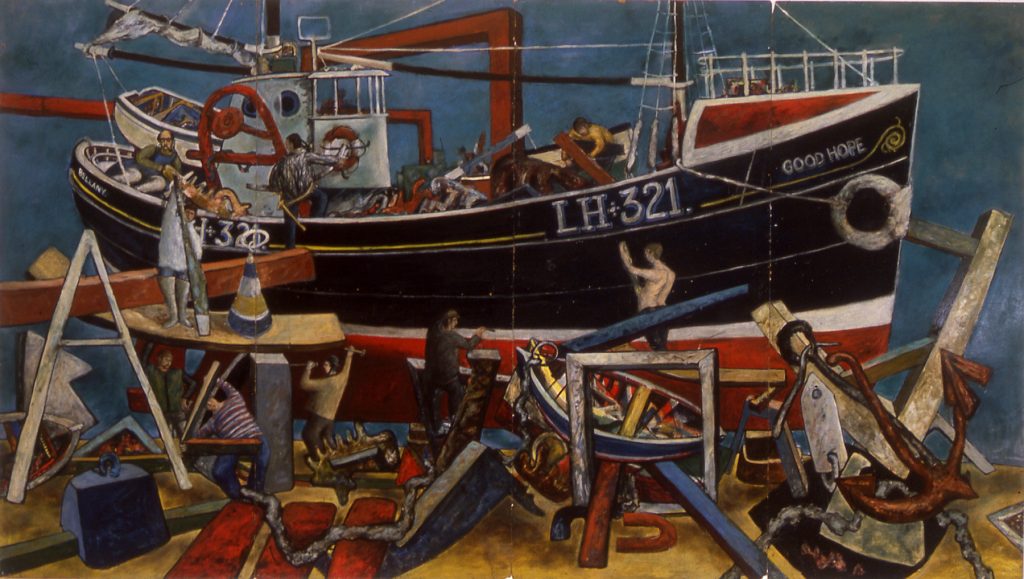 The Boat Builders - Scottish National Maritime Museum
Major Exhibitions
1965 Dromidaris Gallery, Holland
1970 Drian Gallery, London
1972 Royal College of Art, London
1977 25 Years of British Painting, Royal Academy, London (Group)
1979 Scottish Artists, Amos Anderson Gallery, Helsinki (Group)
1979 Tate '79, Tate Gallery, London (Group)
1979 Municipal Gallery of Modern Art, Dublin (with Bacon & Freud)
1981 National Portrait Gallery, London (Group)
1982 Rosa Esman Gallery, New York
1983 Christine Abrahams Gallery, Melbourne, Australia
1984 Rosa Esman Gallery, New York
1985 Athena International Awards, Mall Galleries, London (Group show - first prize)
1986 Scottish National Gallery of Modern Art, Edinburgh
1986 National Portrait Gallery, London
1986 Galerie Krikhaar, Amsterdam
1986 Fischer Fine Art, London
1986 Serpentine Gallery, London
1987 Roslyn Oxley Gallery, Sydney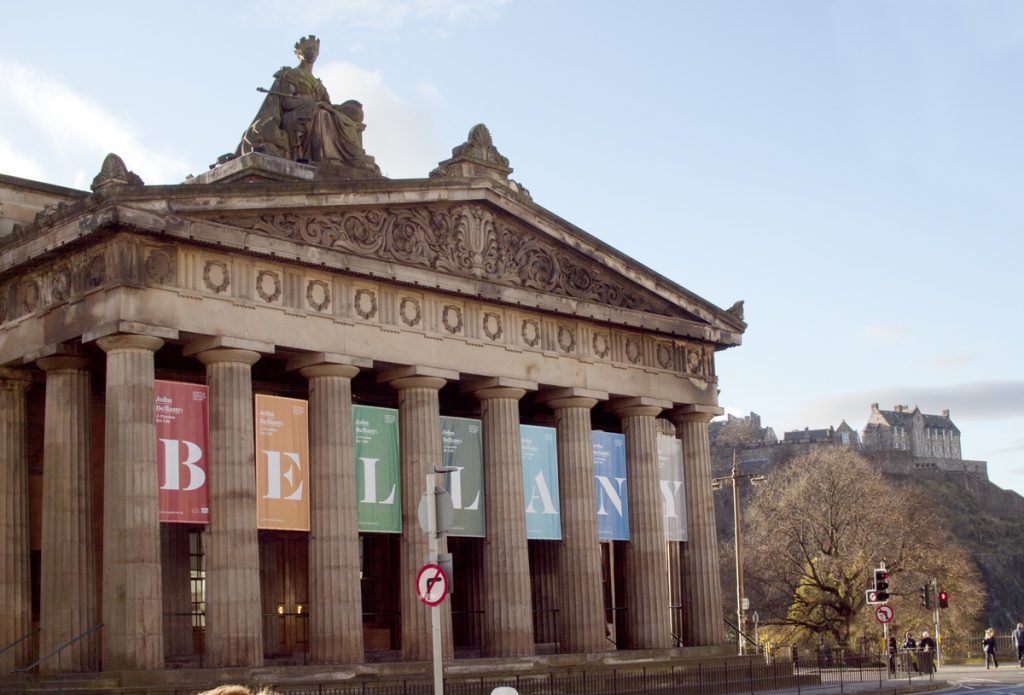 1988 Hamburger Kunsthalle, Hamburg, Germany
1989 Hospital watercolours, Scottish National Gallery of Modern Art, Edinburgh
Museum Ostwall, Dortmund, Germany
Scottish Paintings since 1900, Scottish National Gallery of Modern Art, Edinburgh;
Barbican Art Gallery, London (Group show)
British Council touring exhibition,
Hong Kong; Singapore, Africa (Group show)
1991 Fitzwilliam Museum, Cambridge
1992 Bellany at 50, Kelvingrove Art Gallery & Museum, Glasgow
New British Art, British Council Exhibition, Denmark (Group)
1993 John Moores Exhibition, Walker Gallery, Liverpool (Group )
1996 Künstlersonderbund of Deutschland, Berlin, Germany (Group)
Galeria Kin, Mexico City, Mexico
1997 British Portraits, Scottish National Portrait Gallery (Group)
1998 Religious Images, National Gallery, Sydney, Australia (Group)
2003 John Bellany, Palazzo Angelio, Barga, Italy
Contemporary Religious Art, St Paul's Cathedral, London (Group)
2005 European Union Gallery, Brussels (Group show)
National Gallery of China, Beijing,
National Gallery Shanghai, China
The John Bellany Odyssey, Mitchell Library, Glasgow
2006 Kunsthalle Jesuitenkirche, Aschaffenburg, Germany
2007 Spandau Zitadelle, Berlin, Germany
2008 Bellany and Gainsborough, Gainsborough's House, Sudbury
2009 Four Scottish Painters, Dean Gallery, Edinburgh (Group)
2010 Royal Academy Summer Exhibition
2012 A Passion for Life, Scottish National Galleries, Edinburgh
2014 A Voyage to Barga, Museo delle Rocche e Fortificazioni, La Galleria, Foundazione Ricci, Barga, Italy.